Michelle McAndrew – Club Manager 
Michelle started her career in the health and fitness industry in 2007 when she first qualified as a level 2 gym and exercise class instructor. She began working as a freelance instructor in gyms and progressed to a REPS level 4 advanced Personal Trainer and massage therapist. She set up her own business in London, UK working with private clients and groups. She then began working as a Boot Camp Manager and Wellness Coach which focused on weight loss, health screening and developing lifestyle programmes.
In August 2016 Michelle moved to Galway and is now the Club Manager at NRG in Knocknacarra, Michelle has a genuine interest in helping clients achieve their goals combined with a passion for health and fitness and ensures that the Club delivers a high quality fitness experience to all members. Michelle teaches a variety of classes including spin, kettlebells, HIIT and boxing and looks forward to meeting all the NRG members and guests at the Club.
Adrienne Halasz-Szabo – Fitness & Pilates Instructor, Junior Instructor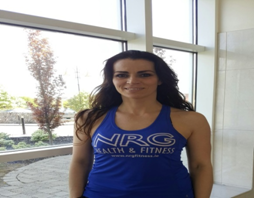 Adrienne is a proud member of the NRG Team since November 2015. Born in Budapest Hungary, Adrienne started her sporty life very early with artistic gymnastics; two years later she got scouted by the Hungarian Dance Academy and was selected to part of Hungary's best ballet school. I literally grew up within the walls of the Hungarian Opera House. Adrienne finished school at the State Ballet Institute and got a Dance Theatre Artist Diploma. Injuries changed my life and I have been working in dance studios as well as fitness clubs ever since.
My profession is my passion and I love to help people find their way to a better health, as a qualified Fitness Instructor and Personal Trainer I do believe in continuous education, reading and constantly updating my knowledge to give the best I can to all NRG members. I teach a range of classes including 20/20/20, X-fit, Barre N' Tone and pilates, I also offer fitness assessments for gym members and am a trainer for the "Fit and Fierce" weight loss program. As a proud mother of three I love to work with children too, parents can meet me weekday afternoons at NRG JUNIOR when I teach Gymnastics for kids.
Rebecca Rooney – Fitness Instructor & Personal Trainer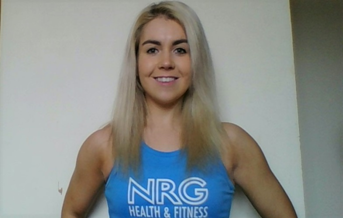 After graduating from NUI Galway with a First Class Honours degree in History, Law and Creative Writing, Rebecca decided to follow her passion for fitness and became a NFQ Level 4, REPS accredited, group fitness instructor. A previous member herself of NRG Health and Fitness, Rebecca is delighted to have many familiar faces training alongside her at such a high level. Rebecca leads classes in our 'Garage' area where members perform functional exercises and Olympic lifts at high intensity. Her certificates in Functional, Circuit and Outdoor Bootcamp training prepared her in her role as one of NRG Knocknacarra's X-Fit coaches, a class she promotes for its ability to test even the most experienced athlete while still being scalable to everyone's fitness level. She hopes to further develop her professional skills in this area so that she can continue to provide creative and challenging workouts for class participants.
Rebecca has an interest in female bodybuilding, sport specific training and strength and conditioning and also has certs in Indoor Cycling, Exercise to Music, Step Aerobics and Aerobics. She is currently teaching X-FIT, 20/20/20, Lean+Fit, HIIT, Cardio Kettlebells, Pilates and Metafit.
Ben Slater – Fitness Instructor & Personal Trainer
Egle Kruit – Fitness Instructor & Personal Trainer