If you've been very good and would like to really relax and unwind after your workouts, NRGize Beauty Salon at NRG Health & Fitness Knocknacarra is the place to go for the ultimate in pampering.
Offering a 10% discount to all NRG gym members, this gorgeous Health and Beauty Salon has an extensive range of face and body treatments given by our qualified beauty therapists. Whether it's a facial, pedicure or a massage, you will be left feeling refreshed and vibrant.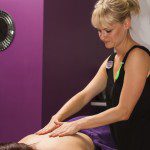 We use Dermalogica - one of the best products on the market to ease away your stress and leave you relaxed and glowing.
Dermalogica is a wonderful product; non comedogenic; contain no mineral oils, artificial colour, alcohol or formaldehyde. We use a unique face-mapping technique to analyse your skin so we can suit the needs of each client individually, with just the right treatment for you, to keep you looking and feeling fabulous.
We have a wide range of options for both men and women, so book now and prepare to be pampered. You can also purchase the range of Dermalogica products at our salon; they're not available in shops.
Remember, our treatments suitable for men and women-here are just a few examples:
Dermalogica Prescriptive and Total Skincare
Dermalogica Body Treatments
NRGize Beauty Salon have specials offers and packages available each month; check with us by calling 091 585 800