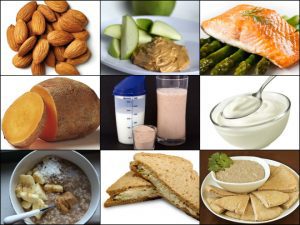 Poor eating habits can undermine even the best efforts to stay fit.  Savvy athletes know that eating the right foods before a workout can give you the necessary fuel to make it through the last five minutes on the treadmill or through that last set of squats.
So, what should you eat before you hit the gym? While every body is different, you can follow the guidelines below to stay strong even during your toughest workout.
Eat carbohydrates for energy
People often assume that the best fuel for exercise, especially strength training, is protein. While protein plays an important role in muscle building and repair, carbohydrates are actually what keep your body energized during long workouts.
Eat protein for recovery
To repair muscle damage, your body needs protein, which is made up of amino acids, the building blocks for your muscles. An adequate supply of protein will help your muscles recover from workout stress, especially if you engage in weight-bearing exercise, such as weight-training or jogging. Including some protein in your pre-workout meal may help reduce post-exercise muscle soreness.
Eat healthy fats for endurance
Many people try to limit the amount of fat in their diet, but cutting it out completely can actually hinder athletic performance. Fat provides fuel for the body. If your workouts typically last more than an hour, your body uses fats for energy after your glucose supply has been depleted. However, you should keep in mind that some fats are more beneficial for people than others.
Examples of what to eat 'Before' & After your workout:
Before: Whole Wheat Toast with Sliced Banana and Cinnamon
When it comes to gearing up for workout, carbs are your gym BFF. The key is to have a mixed bag of complex and simple ones so that the release of energy during your workout is slow and steady throughout your routine. Whole-wheat toast with fruit gives you both types of carbs with the bonus of being super easy to digest.
After: Grilled Chicken and Mixed Vegetables
Your body is in recovery mode, so you need a nutrient dense dish. The lean protein and carbohydrates in chicken will fill you up without feeling overly bloated. Add some veggies in olive oil to keep your ticker in tip top shape
Before: Smoothies
Need a snack on-the-go on your way to the gym? Stick with a smoothie. Not only are they time-friendly, building your own blend has a bunch of exercise benefits. For a foolproof formula, use your favorite sliced fruit, a cup of Greek yogurt and some granola for a thicker consistency
After: Salmon with Sweet Potato
Aside from the usual protein perks, salmon has bioactive peptides, small protein molecules that play a role in inflammation reduction, helping to regulate insulin levels and give you joint support. Sweet potatoes pack in those complex carbs as well as help to restore glycogen levels, which get depleted after a workout.
Before: Oatmeal with Fresh Fruit
Oatmeal is the workout buddy you never have to nag to exercise. It sticks with you throughout your workout by gradually releasing sugar into your bloodstream. Adding fruit to your bowl will help increase the fluid content of your pre-workout snack, keeping you hydrated.
After: Whole Wheat Tuna Fish, Hummus and Spinach Sandwich
If you're a lunchtime exerciser, this is the sandwich for you. Tuna is low in calories, but high in protein and carbs. Hummus is a better-for-you spread over mayo or mustard, while also being high in fiber. And last but certainly not least, spinach is a produce powerhouse, handling everything from curbing your appetite to boosting your complexion and lowering blood pressure and inflammation.